Grace Weber, Her Manager Binta, and the Potential That Still Unravels With Time
Grace Weber and Binta Brown paint their own picture
No motion, stagnant and waiting to breathe air that will free it of suffocated actions, for what is potential if it's not performed in full? Just to think, if my anxiety of phone conversations overpowers my will, most opportunities are terminated. Throughout my journalistic endeavors, I've been able to capture some great stories — those from athletes, political figures, celebrities, artists, and everyday people.
Monday morning: I run my routine of checking my texts and emails (a bad habit that I break out of, occasionally). I press play on Grace Weber's new single "More Than Friends," which is the first single from the Grammy Award-winning artist from Milwaukee. The song, produced by The Social Experiment, continued to play out until my call connected with Binta Niambi Brown — manager, friend, and head of Grace Weber's label, Big Mouth Records. Grace eventually became connected and I quickly wanted to know about the direction of this new single.
"The song was about losing someone when you feel you didn't have to lose that person. So the pain of knowing [the situation] could've been really good but also accepting the fact that it's never going to be."
Writers have the ability to change the narrative; it doesn't always have to advance from their situation or perspective.
"I'm all about telling stories through my songs, so, however I can tell the story best, is how I want to do it. I've written songs from the perspective of what my friends are going through. I've written songs from the perspective of what I'm going through and maybe telling it through a different lens. For example, I'd write a song that might seem like a romantic relationship but it could be about a different relationship in my life but I'm trying to tell the story in a way that connects to people."
For her album, slated for a 2018 release, we can expect all of the songs to be from Grace's lens, "directly my stories," Grace said.
"Making people happy" popped up multiple times during Grace's and I exchange. Her background of singing in Central City Youth Gospel Choir of Milwaukee played a helping hand in showing her that music heals, spreads joy, and serves a cause. The first song that Grace wrote was during high school. Her friend Emily's dad passed away and Grace penned the song "For Emily."
"Writing a song for my friend — it was the first time I got a chance to go into song writing and I wanted to write a song to try to help her and it was kind of an extension and experience for why I love music."
It drew connection to how her creative input found leverage in Chance The Rapper and Kanye West's "All We Got" track, from Chance's 2016 mixtape Coloring Book, which Grace became the recipient of a 2017 Grammy for her contributions.
"I was with Binta and our friend/producer Garren Langford, who produced "Smoke Break" on Coloring Book and produced a couple of songs for my new album. We were hanging out at my Air BnB and getting ready to go the after-party for the Grammys. We were watching it on T.V. We had a strong feeling that Chance was going to win Best New Artist, but everyone was 50/50 or just didn't know if he'd win Best Rap Album. So the moment he won, it was like 'does that mean we're Grammy winners? Because I wrote and sang on "All We Got" So we pulled up our phones, started googling, because we weren't sure what that meant for us. We realized we could call ourselves Grammy winners."
Grace has been stretching her vocal cords strong since a child and confidence reigned at the age of seven.
"For me, it wasn't even a question about what I would be when I grow up."
So to win a Grammy, it's a dream turned into reality.
"It's obvious a dream for all musicians when you're a kid."
She was able to see Nate Fox, Nico Segal (fka 'Donnie Trumpet') and Peter Cottontale of the Social Experiment win big and to see pieces of an album become a phenominal piece of work. We can expect to see and hear all of the aforementioned names be a part of her album process.
"I'm very proud of this album as a whole and I'm so proud of every single song and I love how it all fits together. We've thought about the number of songs, the journey the album can take you on, transitions and how some of the songs weave together."
Informative, Binta chimed in and informed me that the album was complete, minus mixing/mastering and a couple of features.
"We think we'll do one more single this year and a third single in anticipation for the album in 2018. That'll probably be it because we just want people to experience the album as a whole at that point," Binta says.
Binta spoke on the album in confidence and believes in the product that Grace will put out to the world, as does Grace, herself. The two seemed to be symmetric in terms of approach for the craft; strategic and rational in movement.
Meeting through a mutual friend during Grace's performance at Rockwood Music Hall a little over two years ago, Binta and Grace's journey together began — as friend, A&R for Big Mouth Records and Head person at the label — the potential would begin to unravel. At the time, Binta was doing something totally different as a career.
It's amazing to have someone lead you through your fears so that you can do the things you've always wanted to do
"Binta found me and heard me singing, I had yet to come into my own as an artist. I didn't really know 100% how to translate my voice and writing and what I wanted to say on an album and what I wanted for my live shows. I think Binta could see that. Instead of saying I wasn't ready yet, Binta could see that I needed help and guided me to who I really was. Binta could see my true core. It's like having a friend who knows you better than you know yourself and helps you find yourself when you're lost, that's kind of what Binta did for me. It's amazing to have someone lead you through your fears so that you can do the things you've always wanted to do."
It all comes together so well for these two. Binta says Grace and herself spend about 95% of their time together.
"You just happened to catch us on one of the rare moments when we're not together," Binta said in laughter.
Spending that much time together and for over two years, you'll begin to see changes. Binta spoke highly of Grace and the connection felt as genuine as best friends giving each other friendship Grammys and introducing one another to the audience.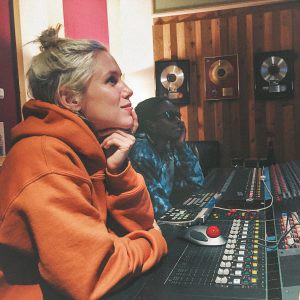 There's just constant growth," Binta began. "Watching and working with Grace make the album, I've been with her the entire way. Just seeing Grace's proccess as she's researching and thinking through lyrics, testing lyrics and testing melodies, it's amazing. I come from a family of people who work really hard and always strive for the best. Grace's discipline and her approach and commitment to the art are unparalleled in my eyes. That makes my job super easy because I know that I have to deliver. This is such a special person and such a special artist. Nobody's ever asked me that and I've been wanting to tell people for a long time."
The certainty of knowing she would be a singer carried on strong. The process of finding her true voice and stepping on the side of vulnerability has unraveled in succession. A graduate of NYU, studying Music and Studio Art and Painting, Grace knew New York was for her. Going to New York for the first time during high school and seeing broadway plays, she saw the drive and ambition of other artists intensifying their path.
"I defnitely was going to school to only study music. For me, it wasn't like I need to go to college and have a backup plan, I knew I needed to do music. I knew I needed to be in New York and take my journey here and college was gonna be like the pathway and journey to me becoming a singer."
As a child, Grace had plenty of space to run around outside — field of play with nature and soccer being two of her favorite enjoyments. Field of play has transitioned into a field of dreams — still unraveling along the course, within the last year and a half, it's becoming the narrative of reality.
I think what Binta helped me realize was in order to be the artist that I really wanted to be, at my core, is the type of artist that allows people in
"I was afraid of being vulnerable and I put up a lot of walls up in my early 20s. Even going through college and going places where it was too scary to be too vulnerable, so I put up a wall for protection and said that these are the places where I'm not going to let anybody in. I think what Binta helped me realize was in order to be the artist that I really wanted to be, at my core, is the type of artist that allows people in. Sharing art that is so real and honest that it can help somebody else , because then you're connecting on a very human level. I wanted to get on stage and didn't want to have these walls up. I want to be in a place where I'm secure and grounded enough and I feel like I have the support system in my team and family so that I can be 100% vulnerable, so that we can create these experiences of art and music that can be transformative for everybody. I didn't really know that I had to break down these walls in order to be the artist that I wanted to be, but Binta really helped me go through that process: what are the things that you're afraid of and how do we tackle those fears so that you can just feel free to make the art that you want to make?"
These walls can no longer talk because they have been demolished by Grace, with the help of Binta. If these walls remained, Grace doesn't make the album that is currently being prepared for the world to hear. The combination of Grace and Binta makes for a duo that doesn't cease in continuous growth. That, in itself, signals potential is still being found and time will help lay out the steps to furthering progression.
Original Story: BLUNTIQ
Add a comment